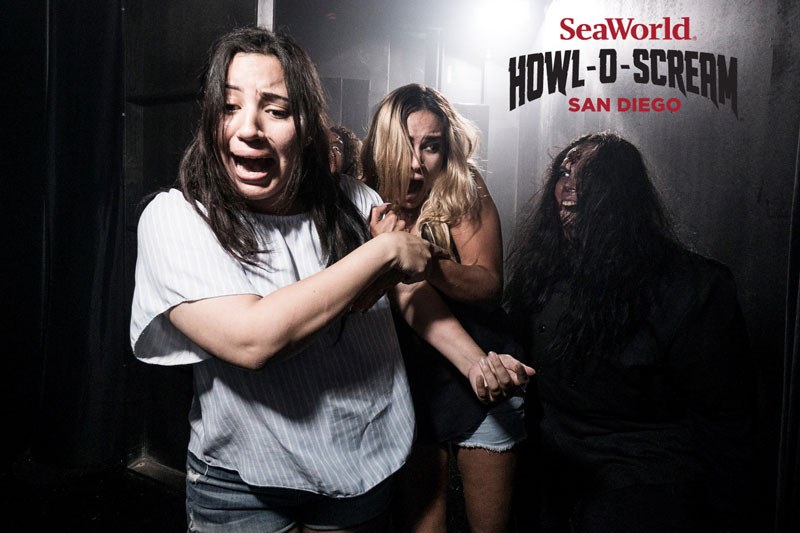 SeaWorld is hiring actors for Howl-O-Scream
SeaWorld San Diego is holding auditions for scare actors for the upcoming Howl-O-Scream, San Diego's newest Halloween nighttime event. Ideal applicants should possess the ability to portray creepy characters with outlandish costumes, make-up and props. Candidates will be asked to audition and demonstrate their startle scare techniques, eerie character movements, and sinister laughs.
Here is the full press release from SeaWorld San Diego:
SeaWorld San Diego seeks the scariest of applicants to join Howl-O-Scream's Scare Squad
Scare actor auditions invite all to haunt guests this season while thrill seekers get a freakishly-good offer.
SAN DIEGO, CALIFORNIA. (July 29, 2021) – SeaWorld San Diego is preparing a wide variety of spine-chilling moments as the park prepares for it's first-ever ALL-NEW Howl-O-Scream, San Diego's newest nighttime attraction, with new employment opportunities, a "Monster Sale", and a preview of something to scare you in your sleep!
Looming closer each day, Howl-O-Scream will debut in San Diego on September 17 and run through October 31 for 24 select nights, joining the park's annual family-friendly Halloween Spooktacular during the day. While family-friendly trick-or-treating, hay maze craze, spooky hula hoops, costume parades, and a pumpkin search throughout the park fill fall days; by night the fright seekers will tremble upon entering the three horrifying haunted houses, seven expansive scare zones and unpredictable hordes of nightmarish creatures throughout the park.
Invitation to Scare: Apply to be part of the Scare Squad (No Experience Necessary)
For those who can't get enough of the haunt life, SeaWorld San Diego is looking for hundreds of enthusiastic performers who will add horror and thrills to the separately ticketed night event. The park is hosting one-hour Scare Squad auditions every Thursday between 5 – 8 p.m. and every Saturday between 12 – 5 p.m. now through September. During the audition, applicants will be asked to participate in improvisational and physicality exercises to demonstrate various elements of scare tactics and showcase their best skills to startle, scare, and make guests scream in terror.
The selected creepy characters must be passionate about Halloween and love to frighten in a fun way. The Scare Squad will spread fear and fun and join our Fear Family by being transformed into characters by world class makeup artists and the park's costume design team. Interested applicants can secure their audition spot by applying online at https://seaworldauditions.com.
Applicants are asked to wear comfortable clothing and apply online for the position prior to attending an audition. Experience is not required, just a desire to have fun and give a good scare. As part of the SeaWorld family, new hires will enjoy a fun, fast-paced environment, great teammates, and free park admission and parking. Additional perks include discounts on park tickets for friends and family, food, merchandise, and in-park experiences.