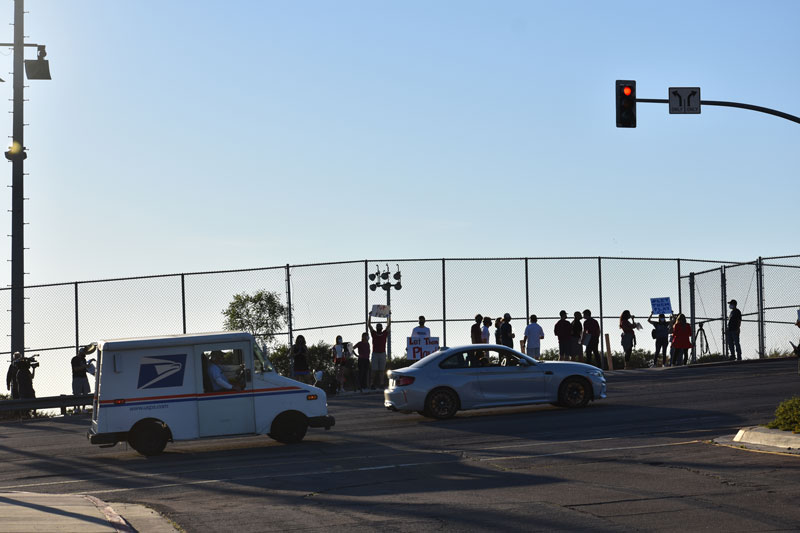 SR WEEKEND & NEWS UPDATES
Rally supports sports play
Dozens of demonstrators lined Scripps Ranch Boulevard next to Scripps Ranch High School on Jan. 15 during a plannedshow of support for re-starting youth sports competition across California.Youth sports, especially high school sports, have been interrupted and seasons have been cancelled since the spread of COVID-19 has run rampant across the state.Restrictions put in place by the governor have restricted sports activities.
Friday's demonstration was part of planned events organized byLet Them Play, a grass roots effort of parents, students, coaches, staff and fans focused on doing whatever it takes to get California athletes back in action. Rallies were planned in other communities across the state on the same day.
---
Local cases near 900
Total cases of coronavirus reported since San Diego County began recording cases in the Scripps Ranch 92131 ZIP Code area as of Jan. 15 stand at 895.
The County of San Diego reported 2,833 total cases recorded in Mira Mesa and 1,611 total cases in Poway. San Diego County reports the cases, broken down by community residence listed for each patient.
These are the total tabulated cases in each ZIP Code area since the County began tracking cases in February. It does not reflect those who recovered, nor does it account for those who died from COVID-19 in Scripps Ranch. The County of San Diego does not provide those statistics at this point.
---
Virtual Walk for Animals
Help create a more humane San Diego for companion animals and wildlife in need by joining the Virtual Walk for Animals the second week in April. This fun-filled Walk Week will feature engaging and animal-themed virtual entertainment, including behind-the-scenes tours, fundraising contests, social media surprises, pancake making and more!
Registration: sdwalkforanimals.org.
---
Wolff plays live this weekend
Scripps Ranch rock musician Steve Wolff will play two livestreaming performances over the weekend:
First, he will play Saturday, Jan. 16: 1 Man Rock Band StreetJelly Livestream starting at 5:30 p.m.: https://www.streetjelly.com/-Wolff. StreetJelly sessions can be replayed for 24 hours afterward.
On Sunday, Jan. 17, he will perform a two-hour mix of "Almost Unplugged" and "1 Man Rock Band" on SessionsLive from 5 to 7 p.m. (live only, no replays).: https://sessionslive.com/WolffLive.
Wolff ended up canceling last Saturday's live stream due to laryngitis.
---
NEXT WEEK:
Here is a little about the upcoming week; Jan. 17-23, 2021:
Sunday, Jan 17 is National Bootlegger's Day and National Hot Buttered Rum Day.
Monday, Jan. 18 is Martin Luther King Jr. Day, National Peking Duck Day, National Thesaurus Day and National Winnie The Pooh Day.
Tuesday, Jan. 19 is World Quark Day and National Popcorn Day.
Wednesday, Jan. 20 is Presidential Inauguration Day, National Buttercrunch Day, National Cheese Lover's Day and National Disc Jockey Day.
Thursday, Jan. 21 is National Granola Bar Day, National Hugging Day, Squirrel Appreciation Day and Get to Know Your Customers Day.
Friday, Jan. 22 is National Blonde Brownie Day and Celebration of Life Day.
Saturday, Jan. 23 is National Handwriting Day and National Pie Day.