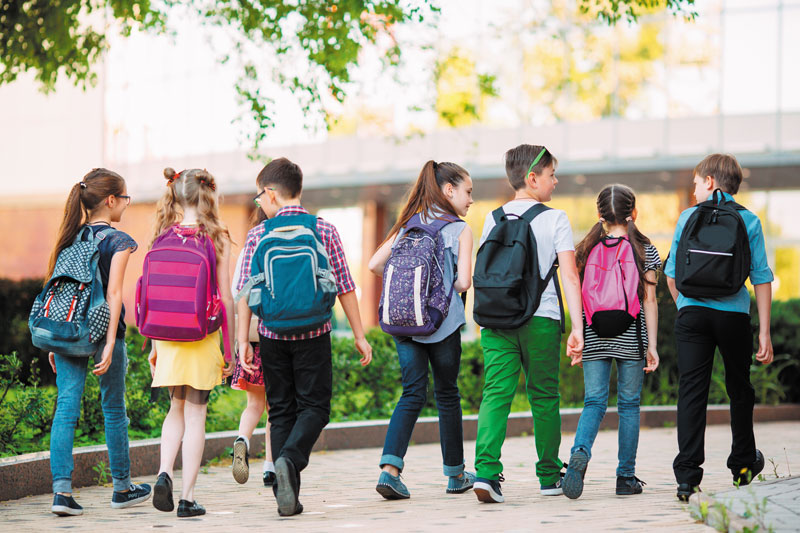 BACK TO SCHOOL
Scripps Ranch High School
• School days will begin at 8:45 a.m. and end at 3:33 p.m. this year.
• SRHS is moving back to its traditional "pre-COVID" 6 period bell schedule. Mondays, Tuesdays and Fridays will have a traditional 6-period day. Wednesdays and Thursdays will have a "block schedule" with double periods and an advisory period in between periods 1 and 2.
• The first day of school will have a different bell schedule to accommodate the passing out of schedules. Students will begin the day in their advisory class and then go to their period 1 class.
• Kickoff for freshmen will be Aug. 23 and 24. This year's freshman class is invited to the first ever Falcon PRIDE Day. Falcon PRIDE Day is an event designed specifically for incoming freshmen students as a "bridging" into high school. Students will visit five stations throughout the day, each representing SRHS Falcon PRIDE; Positivity, Respect, Integrity, Diversity, Excellence. While at these stations, students will have the opportunity to meet and learn from some of the exemplary upperclassmen students and make their first memories together at SRHS. Falcon PRIDE day is Monday, Aug. 23 from 8:30 a.m. to 1:15 p.m. On Tuesday, Aug. 24 from 8 to 11 a.m., freshman students will attend the traditional Kickoff event to pick up their books, purchase items, etc. Due to scheduling conflicts, freshman students will not take their picture or pick up their school ID during the Kickoff event. Students will have an opportunity to take their picture and receive their school ID the second week of September.
• San Diego Unified School District is following the guidelines of the California Department of Public Health. Every morning at home, students should fill out the daily symptom checklist. Use this link: https://bit.ly/3malgEP.
---
Marshall Middle School
• First day of school will be Monday, Aug. 30. School starts at 7:40 a.m. and ends at 2:20 p.m. Bell schedule:
https://bit.ly/3yUufxI.
• For returning students, all of the registration procedures such as school picture information, PE clothes, emergency cards, textbooks and other logistical information will take place in the first week of school.
• New Student Orientation will take place Friday, Aug. 27 for all incoming sixth graders and students new to Marshall Middle School. Participants will tour the campus and meet the administration, counselors, front office staff, and Eighth Grade Mentors. Parents will also be able to purchase PE clothes and pre-order the 21/22 Yearbook: 8 a.m. for students with last names A-L; 10 a.m. for those with last names M-Z.
• New students who need to complete the enrollment process should read this: https://bit.ly/3m7QH2J
• For information about the Primetime after school program, email: marshall@arc-experience.com or apply: https://bit.ly/2UmHd8f.
---
Dingeman Elementary School
• Classes start at 8:25 a.m. and end at 3 p.m. on Mondays, Tuesdays, Wednesdays and Fridays. Thursdays have a modified schedule, with classes beginning at 8:25 a.m., with dismissal at 12:20 p.m.
• A TK/Kindergarten Family Meet-up is scheduled for Saturday, Aug. 28, 10 a.m. in Scripps Ranch Community Park, 11454 Blue Cypress Drive. Parents representing the Dingeman Family Faculty Connection (FFC) will be available to chat and answer general questions about being a Dingeman Tiger while the kids play and get to know each other. Wear a mask.
---
Ellen Browning Scripps Elementary School
• Back to School Night for TK/K parents only is set for Aug. 26.
• Aug. 27 is TK/K orientation a 10:30 a.m. Parents should bring their students to meet their teachers.
• Aug. 27 is also New Student Orientation and School Tour day, 10:30-11:30 a.m.
• Back to School Night for parents with children in grades 1-5 is Sept. 2. Adults only.
---
Jerabek Elementary School
• First day of school is Monday, Aug. 30.
• The first week of school is minimum days for all TK and Kindergarteners. Classes will begin
for them at 8:35 a.m. and end at 12:25 p.m. from Aug. 30 through Sept. 3.
• Jerabek Elementary Running Club begins Aug. 31. The campus is open at 8:15 a.m. with parent supervision.
• Back to School Night for parents via Zoom is Sept. 2 from 5 to 6 p.m.
---
Miramar Ranch Elementary School
• First day of school is Monday, Aug. 30.
• Back to School night is scheduled for Thursday, Sept. 18.
• Visit the Miramar Ranch FFA website at miramarranch.org for more information.
---
Chabad Hebrew Academy
• Visit the school's website at chasd.org.
---
St. Gregory the Great Catholic School
• First Day of School was Aug. 17.
• Virtual School Mass is scheduled for Friday, Aug. 27.
• Visit stggcs.org for more information.