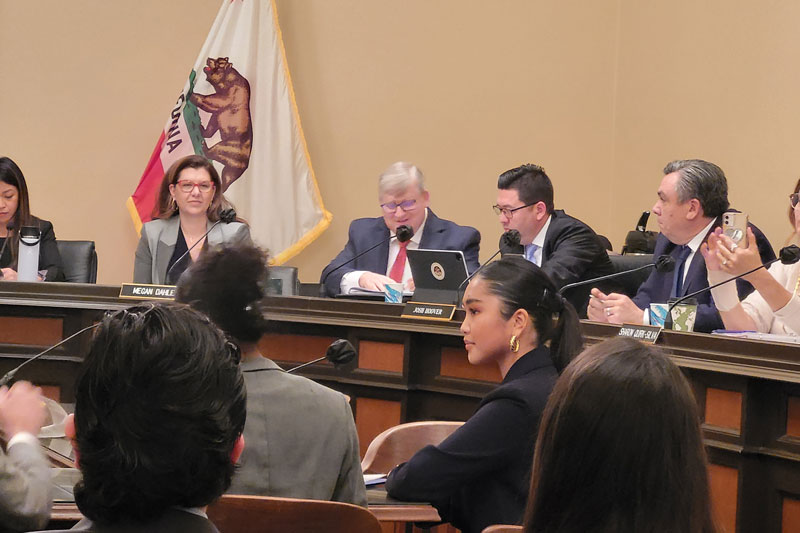 Bill to pay student reps advances
In a move supported and sponsored by the San Diego Unified School District (SDUSD), student board member representatives throughout the state are one step closer to being eligible to receive paid compensation for serving on district or county school boards.
AB 275, introduced in January by Assemblymember Christopher Ward (D-78th Dist.), was unanimously passed on the Assembly Floor 67-0 on April 10 and now moves to the Senate. The bill would authorize a school district or county board of education to award a student board member financial compensation, elective course credit, or both.
Currently, student board members in California are prohibited from receiving financial compensation for
their service. Of the more than 420 school districts serving high school students in California, more than 270 have one or more student members on their school board.
"Our district thrives when it recognizes students as leaders, and engages in shared decision-making with them," SDUSD Superintendent Dr. Lamont Jackson said. "Student board members deserve more than just praise. They deserve compensation for their work."
SDUSD has two student board members: Lea Nepomuceno, a senior at Scripps Ranch High School, and Matthew Quitoriano, a sophomore at San Diego High School. The district has a requirement that one seat come from a student attending a school where at least 60 percent of the student body qualifies for free or reduced-priced meals.
On March 22 in Sacramento, Nepomuceno testified before the Assembly Committee on Education in support of AB 275.
"Every student's voice matters," Nepomuceno said. "Finances shouldn't be the barrier preventing any student in the state from pursuing a seat on their respective Board of Education."
Student school board members attend board meetings, represent the student population in discussions, advocate for issues of concern to the student body, and help guide the governance process of their school districts.
"Student board members play a vital role in California schools by representing the student voice and sharing their perspectives with the board," said Assemblymember Ward. "I am proud to author AB 275 so they can receive compensation for their time and work, and continue to help solve issues that impact students across the state."
AB 275 does not specify the amount of compensation that would be offered for a student board position, but rather would leave that determination to each respective governing board.
If approved by the Senate this year, AB 275 would head to Gov. Gavin Newsom's desk for his signature. If signed, the bill would become law and take effect Jan. 1, 2024.