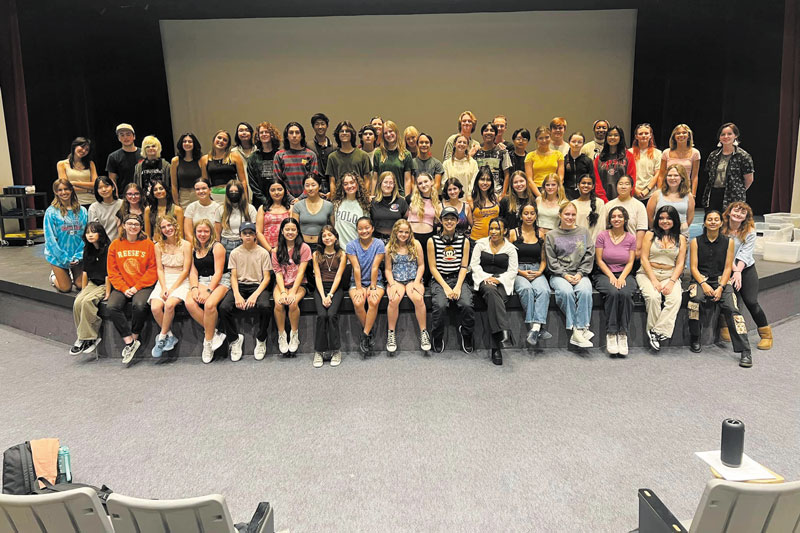 Falcon Playhouse presents another classic
By Ashley Shah
The Falcon Playhouse is the Scripps Ranch High School (SRHS) theater program. Its actors will be performing "A Midsummer Night's Dream," the group's first production of the season. It will run from Nov. 16 through 18.
"We wanted to do a piece by Shakespeare. It is a classic. This production requires a little more knowledge, and makes you learn how to interpret Shakespeare. The production provides a unique challenge for the students," SRHS theater director Patrick Garcia said.
The classic story follows a series of lovers who face conflicts, and meet new characters who cause more conflict, but all fall into place in the end.
"We have modified the original piece in some ways," Garcia said. "Instead of having it set in ancient Greece, we are putting this production in a dystopian society. There are still aspects of royalty, nobility and fairies. There is a technological aspect, but it is small."
While the setting may be different, the main roles are the same.
The four main lovers: Hermia, Lysander, Helena and Demetrius – are played by Camile LaPlante, Charlie Duchicela, Sarah Norton and Noah Valdez, respectively. The three main fairies: Oberon, Titania and Robin Goodfellow – are played by Demian Deonarine, Stella Hunter and Lucas Kwan, respectively.
Other than the adjustments in the setting of the production, Garcia mentioned another challenge they may face.
"We have not done a Shakespeare production in so long. So, we definitely need some practice, but we can make it there," he said.
Even though this production type is new to the theater, Garcia expressed what he was looking forward to during the performances.
"I am really excited to see the growth from our students. A lot of them are younger and are new, so I'm looking forward to seeing them learn, especially since we are starting with a harder production," Garcia said.
"A Midsummer Night's Dream" marks the first production of the season and there will be three other productions through the season. These include a musical, a smaller production and one production in the summer.
The productions are chosen by students. The theater program is run by students for students.
"We have a board of students who run committees of students. One of the most important committees is the reading committee. They read over plays, and then pitch them to me, and we pick the productions we want to show," Garcia said. "There are other committees that help with fundraising, organizing the productions and more."
For more information about the season, or the Falcon Playhouse, visit: tix.com/ticketsales/falconplayhouse/6825.