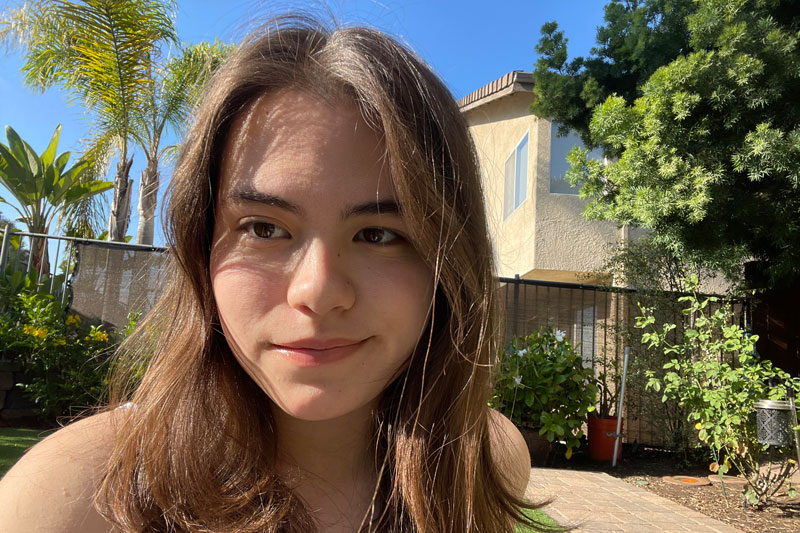 Falcon Playhouse president sets the stage
By Patricia Overton
Drama students from the Falcon Playhouse at Scripps Ranch High School (SRHS) will hit the stage for the grand production of the comedy "You Can't Take it with You."
"It's about a very eccentric family that lives day by day," said Falcon Playhouse President Mika'la Chiaco, a senior who plays the part of Penny, one of the leading roles. "They're very unusual people compared to your usual Wall Street kind of guy, and one of the daughters – her name is Alice – who is the most normal out of all of them, [she] falls in love with a businessman. … The whole story is about their love and making the two families meet and getting to know each other."
The rehearsals and preparations are underway and the set design is coming together nicely with a two story apartment building design and balcony, she said.
Chiaco, who has been a very essential part of the Falcon Playhouse, is often known as the "mom" of the group. She credits her success to theater teacher and director Patrick Garcia.
"He is such an amazing person – the way he handles the theater and playhouse and also the way he has trained me. I've taken his acting classes and learned so much from him. He is such an important figure in my life," Chiaco said.
She also mentioned her admiration for her older sister, Kalea, now a college student and a role model for Mika'la.
"I love her work drive. She is such a big role model to me and especially since we grew up together and seeing how she works," Chiaco said. "I've been able to take habits from her and been able to make myself more successful."
Chiaco's interest in theater began in the sixth grade when her mother signed her up for musical theater at Marshall Middle School. It was there where her love for the arts started to grow and where she joined the drama club that led her to eventually join the Falcon Playhouse as a freshman at SRHS.
Her first musical was "Grease" her freshman year. She was in the ensemble and did a lot of the piano work. She had so much fun that she continued performances into her sophomore year and she became improv captain. By junior year, she got on board as publicist, in charge of all social media for the playhouse. Her senior year, she was elected president of the Falcon Playhouse while still remaining improv captain, since improv happens to be one of her favorite things.
While she loves theater, Chiaco has another impressive passion: music and songwriting. Growing up around music, she learned how to sing, as well as play the guitar, ukulele and piano.
"Lin-Manuel Miranda is my songwriting inspiration because he writes amazing musicals and music in general," Chiaco said while talking about musical role models. "He writes so much for Disney and Broadway, and I think it's so cool how he was able to turn his passion into a career – and that's something I would like to emulate in the future."
She described her plans following high school.
"I definitely want to continue theater on the side, but want to major in biopsychology and neuroscience," she said. "Because I love the arts, I want to minor in music production, and I hope to stay in California for college. My dream college is UCLA."
She added that she wants to have fun and live her life and just wants to go with the flow.
Chiaco described the benefits of being involved with the SRHS Falcon Playhouse for future talent and anyone interested in joining.
"We are definitely a very diverse and close-knit community, and everyone's so nice and we are so welcoming to anybody who wants to join," she said. "We are also very sophisticated in the way that we do and run our playhouse. It's very similar to the professional level. We don't cast based on grade level or you don't get any position because you're older; you get it because you work hard. … Everyone works so hard to get everything that they deserve and I really love that about our playhouse. I love that everyone loves coming to see the shows and I think that's very important."
"You Can't Take it with You" runs Nov. 17-19. Everyone in the community is welcome. Tickets are sold at falconplayhouse.com.