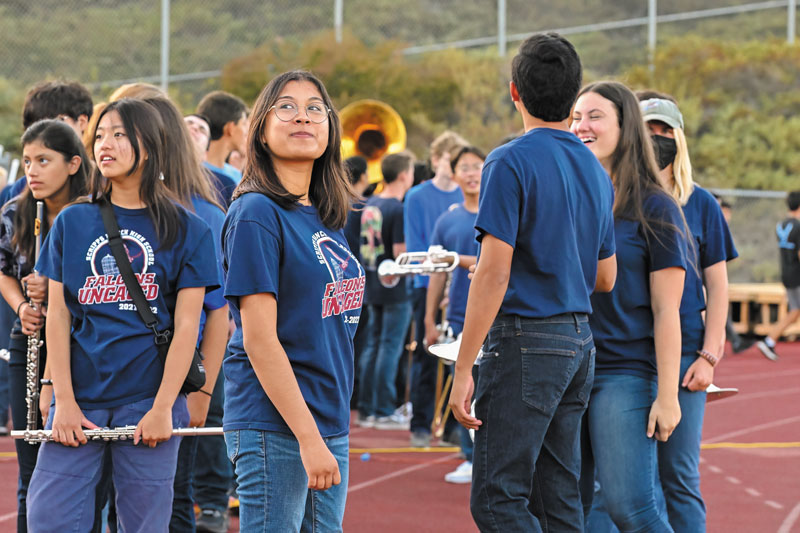 Meet Rosy Barba: SRHS drum major
By Ashley Shah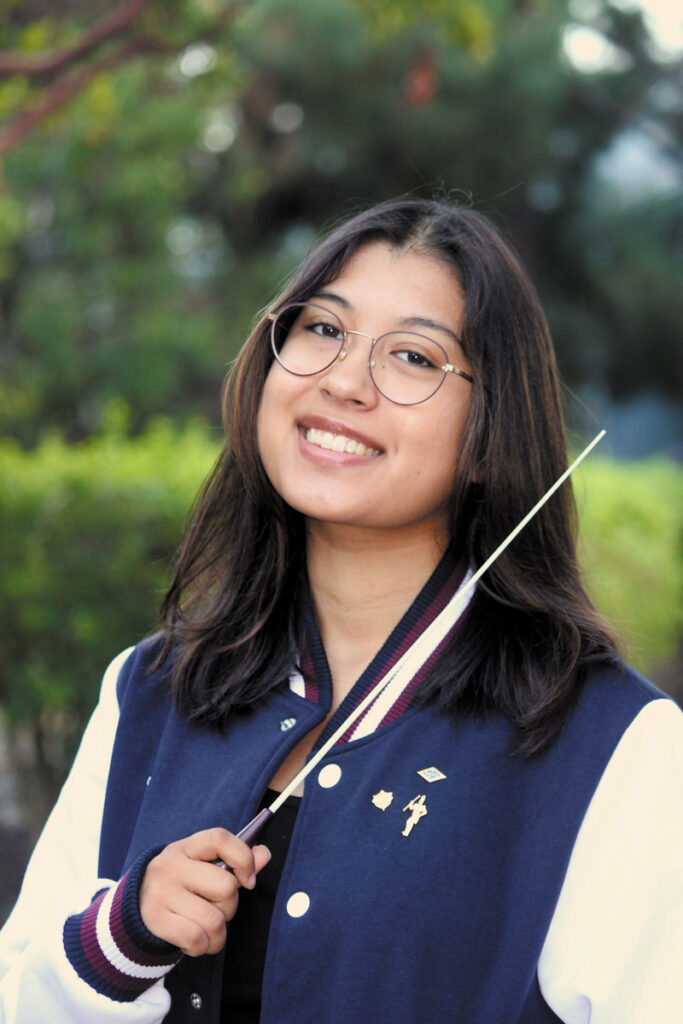 Rosy Barba, a senior at Scripps Ranch High School (SRHS), is the lead drum major for the SRHS marching band this academic year. Barba has been involved in the SRHS music program for three years, and now is her opportunity to be the leader of the award-winning Falcons marching band.
As drum major, she is the right-hand to Russell Shedd, the SRHS music director.
"I relay information from Mr. Shedd to parents and students. I conduct our shows during football games and performances. I do a lot of leading in rehearsals, warm-ups and sectionals," she said.
Her goals for this season include creating an enjoyable experience for the students. 
"I really want everyone to have a great experience like I did my freshman year. I want to make sure I am bringing a lot of enthusiasm. Students are really looking forward to being back, so I want to keep that energy going," Barba said. 
She is excited about leading the marching band this year.
"I am really looking forward to leading this amazing group of students and taking them to the championships. I can't wait to conduct this show. That's what initially drew me to this position," Barba said.
She has been involved in the SRHS music program since her first year at the school.
"I joined the marching band and concert band my freshman year. I then was asked later to join the full ensemble, which is a set of students from concert band who play with orchestra," Barba said. 
During her sophomore year, Barba joined the student council for the band as a music librarian. 
"Mr. Shedd has a student council that assists him. As a librarian, I handled the music for the shows," Barba said.
In her junior year, she was assistant drum major, which led her to the position of drum major this year. 
The SRHS marching band had its initial performance of the season at the first home football game of the year on Aug. 26. Prior to the first performance, members of the marching band had two weeks of band camp. 
"During band camp, we worked on marching basics, and had them start on the show. We met Monday to Friday from 3 p.m. to 9 p.m.," Barba said.
During the school year, the band practices in class as well as after school on Tuesdays through Thursdays.
Competition season begins in late October and continues until late November when the finals and championships occur. 
"Last year, we placed fourth in our division, and ninth overall in the state," she said. "Hopefully this year we are able to do well at grand championships." 
This season, the SRHS marching band will be competing in the 4A division, rather than the 5A division as in years past.
"A lot of kids didn't join music because of COVID, so we have less students than we usually do. I don't think that will affect us negatively because we all are really excited to be there, and have a lot of energy," Barba said.
Because this is her last year in the SRHS music program, she reflected on her experiences.
"It's just been so amazing to be a part of this program. I have gained so much, and learned so much," she said. "I have been able to meet some of my closest friends through band. I just love every aspect of music, and this program."
Barba has not only spent four years in the music program at SRHS, but has also been in music since she was about seven years old. Even though she has been in music for years, her passion has not subsided, and she wants to continue music in the future.
"I'm hoping to get my bachelor's of music in music performance, and a master's in conducting," she said.
For more information about the SRHS music program, visit srhsmusic.com.