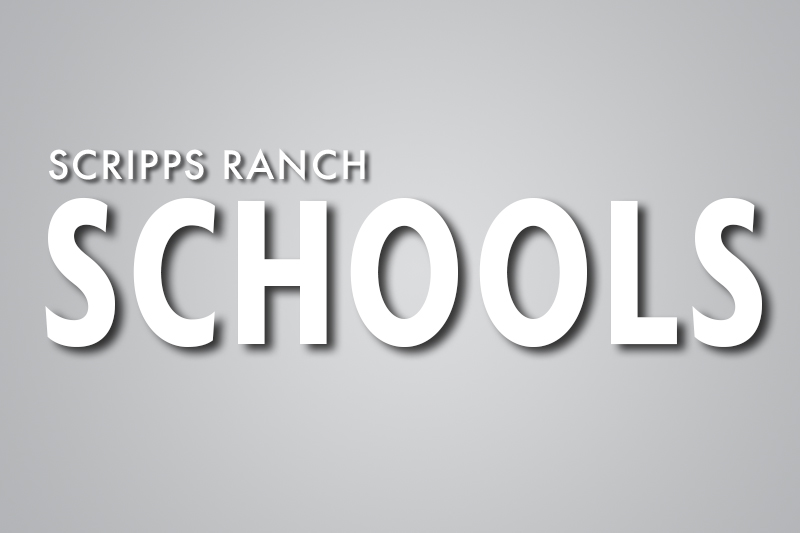 SCHOOL NEWS
SRHS graduation
The Scripps Ranch High School Class of 2022 commencement ceremony will be held June 14, 5-6:30 p.m. in Grosvenor Stadium on the Scripps Ranch High School campus. All details are available at bit.ly/3a3Yzyk.
Senior Car Parade
The Scripps Ranch High School Class of 2022 Senior Car Parade is scheduled for Monday, June 13 at 5 p.m. Participating vehicles should line up at 4:15 p.m. along Red Cedar Drive toward Scripps Lake Drive. The parade will start at the corner of Red Cedar Drive and Ironwood Road. Graduating seniors participating are encouraged to wear their commencement caps and decorate their vehicle.
MMS promotion
The 2022 Marshall Middle School (MMS) Eighth Grade Promotion Ceremony is scheduled for Tuesday, June 14. Gates will open at 7:30 a.m. and the ceremony will start at 8:30 a.m. Promoting students will need to arrive at the upper fields by 8 a.m. There will be assigned seating for students based on their first period teacher. Upon arrival, students will need to find their seats and be ready to start the ceremony promptly at 8:30 a.m.
Guest seats are not assigned and there is no limit to how many guests attend. The ceremony will also be streamed live on Zoom for any family to watch from off campus. Parking will be available on campus and at Alliant University.
In addition, parents are reminded to purchase tickets for their eighth grade students for the MMO Eighth Grade Party which will be held on Friday, June 10. Visit bit.ly/3a3YT00.
Ranch Round Up
The annual Jerabek Elementary School Ranch Roundup fundraiser will be held on June 3, 3:35-7:30 p.m. at the school. This western-themed event offers an abundance of fun family activities including games, food and fun for all ages. Highlights include a cake decoration contest and a student talent show.
Hawkstar Variety Show at MRE
The Miramar Ranch Elementary School Hawkstar Variety Show is back on a real stage again. This traditional show – featuring students showcasing talents such as singing, dancing, acting, comedy, music, martial arts, gymnastics and magic – will be held at the Scripps Miramar Ranch Library on Monday, June 6, at 5:30 p.m.
New associate principal at SRHS
Scripps Ranch High School (SRHS) chemistry teacher and ASB advisor Ashley Gay has been named the new associate principal at the school. She will join the administration team beginning July 1.