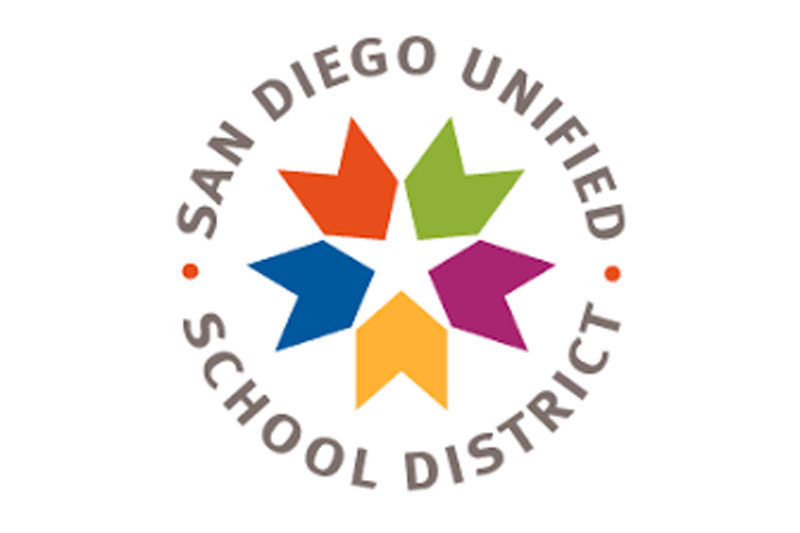 SDUSD sets date for reopening
(Feb. 23, 2021) The San Diego Unified School District (SDUSD) released an announcement about its plans to reopen school campuses for in-person classes the week of April 12. However, the planned openings are dependent on San Diego County being back in the Red Tier, teachers being vaccinated and safety measures being in place on campuses to prevent the spread of COVID-19. In addition, online learning will continue to be an option for families this spring.
Here is the SDUSD announcement:
San Diego Unified, the state's second-largest school district, announced plans to return to in-person instruction the week of April 12, based on a regional agreement to start teacher vaccinations next week. The reopening plan would apply to all grade levels and take effect as soon as San Diego County drops back into the state's Red Tier, teachers who wish to be vaccinated have had the opportunity to do so, and proper safety measures continue to be in place on every campus.
"Our plan to reopen classrooms in April is the result of groundbreaking collaboration between our city, our county and our professional educators. From the start of this crisis, we have remained committed to reopening when it was safe and responsible to do so. Full vaccinations for educators are part of that safety plan, and we are very grateful for our regional partners helping us to achieve this goal," Board President Richard Barrera said.
The City of San Diego has offered to make emergency medical personnel available to help administer vaccines to educators, and the County of San Diego has said teacher vaccinations could begin as soon as Monday, March 1.
Board President Barrera also praised the State Legislature for the clear reopening guidance in Senate Bill 86, which was released Thursday, Feb. 18. He also thanked the panel of UC San Diego medical experts, which released the latest recommendations to the district Friday, Feb. 19. Those two steps last week have allowed the district to keep its commitment to follow the science in planning for a safe, responsible classroom reopening, Barrera said.
Even as the district prepares for a return to in-person instruction, the district recognizes some parents will not feel safe sending their students back on campus at this time. For those families, online learning will continue to be an option.
"In the past year, our country has lost 500,000 people to this terrible disease, and we know our young people have also felt its effects, through lost loved ones, and also through lost opportunities. We also know this loss has not impacted all communities equally, and our historically disadvantaged students have suffered the most from the COVID-19 crisis. It is up to all of us to give them back their future – not only on the day we reopen classrooms, but on each day afterwards by renewing California's commitment to equity in education," Barrera said.
Currently, some 4,000 students are visiting schools for scheduled learning appointments, and many more will soon be returning to more than 500 learning labs, which are scheduled to open in the weeks before the full reopening following Spring Break. However, these opportunities are largely designed to support students who face severe obstacles to online learning. They include students experiencing homelessness, English language learners and many special education students. Barrera described these efforts as important, but insufficient given the extraordinary level of need.
"San Diegans can be rightfully proud of the heroic efforts our teachers and other workers have put forward over the past year," Barrera said. "They have served 12 million free meals, distributed more than 80,000 laptops and thousands of WiFi hotspots, hosted forums for thousands of parents in many different languages, and most of all, they have never stopped working to make our school buildings safer. That work will only grow in importance as we prepare to reopen classrooms."
According to the San Diego County Office of Education, some 88,000 students are now participating in a hybrid learning environment, including some time on campus. That county number would immediately double once San Diego Unified launches its own hybrid program.
Board Vice President Dr. Sharon Whitehurst-Payne called on state lawmakers to move quickly to pass SB86 and then to move forward with additional funding for an equity-based recovery.
"Now is the time for the state to embark on a recovery plan to provide more instruction time and more dedicated attention to students. This recovery must be based on acceleration, not remediation," Dr. Whitehurst-Payne said. "State funding must be set aside now, so districts can begin planning to implement evidence-based strategies, which should be locally driven, but could include expanded tutoring, in-person academic and enrichment classes this summer, and mental health supports."
All families will be asked to share their preferences for returning their students to in-person classroom instruction in a district survey.