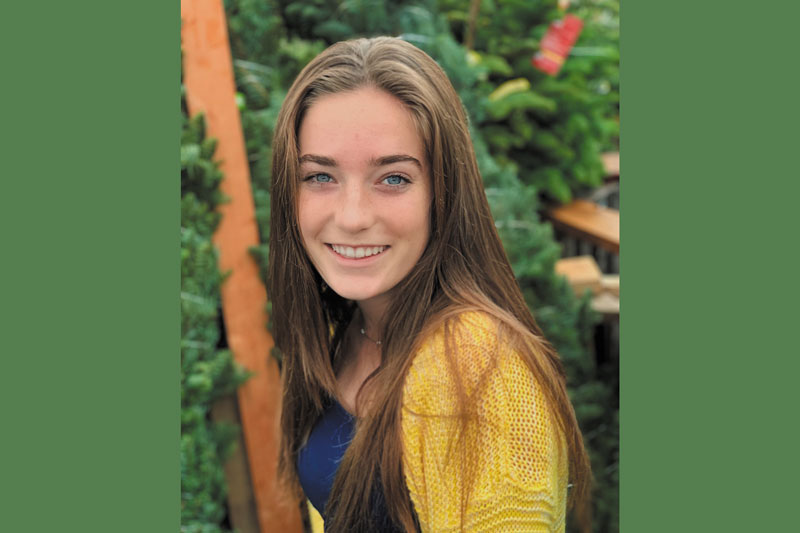 Seniors Corner: Missing senior year
By Ashley Shah
Seniors at Scripps Ranch High School (SRHS) provide their thoughts about missing "Friday night lights" as well as other traditional activities – and describe how they are coping with distance learning.
Shea Richardson-Pepper
Four-year lacrosse player
"I miss the dances and I'm nervous about not being able to have Prom. I really miss the football games too. It's not so much about the game, but the people you're with and the memories being made," Shea Richardson-Pepper said.
She explained her experiences and struggles with virtual learning.
"It's crazy to think that I'm a senior this year because it doesn't feel like we're in school anymore. I move from my bed to my desk to do work. Right now, it's hard to make friends … because we're not really interacting with anyone anymore," she said.
As a member of the varsity lacrosse team since sophomore year, she shared her disappointment in losing her season.
"Last year our season was cut short, so we only got to play like four or five games. Lacrosse is a big aspect of my life and most of my closest friends play it. Not having my senior season with my team hurts," Richardson-Pepper said.
Despite her struggles, she remains optimistic about these trying times.
"As unfortunate as the situation is, I'm still really grateful to have what I have. I think it's easy to focus on what we can't do, but you really have to think of the bigger picture and that is that we're a part of something historical now," Richardson-Pepper said.
She is also a part of the SRHS yearbook staff.
Outside of school, she plays for San Diego Wave lacrosse and works at Chili's.
She plans to attend a four-year university and play Division III lacrosse.
---
Steven Lancia
Captain of the varsity baseball team
"I miss watching the games. Some of my friends are on the football team, so it's kind of a bummer that I can't watch them play and cheer them on," Steven Lancia said.
He shared his differing experiences regarding virtual learning.
"I like having only three classes now and not going to every class every day. The quarter system feels more efficient to me," Lancia said. "However, I feel like it's super hard to communicate now with teachers. It feels like everything is hidden behind a screen. You just can't substitute the in-person experience because we can't just talk to our friends in the halls anymore."
He hopes to have his senior baseball season this year.
"I want to win Western League again. We did that two years ago and I'm sure we would've done it again last year if our season didn't get cut short," he said. "I'm hoping to just practice and see the team again. They really become like your family."
Outside of SRHS, Lancia plays for Trosky Baseball.
He hopes to commit to the University of California, San Diego to play Division I baseball.
---
Olivia Mann
Four-year cheerleader
and pole vaulter

"I miss cheering at the games and rallies. The whole team is really close and I miss just meeting up with them and getting to practice and prepare," Olivia Mann said.
She conveyed the positives and negatives of virtual learning.
"Just staying interested is hard because you're not in a classroom and there are a lot of distractions around you at home. It's hard because of the lack of interaction as well. I feel like it's less stressful virtually though, so that's nice," Mann said.
As part of the pole vault team, she explained her feelings of missing her season.
"It's sad that I'm going to be missing both of my senior seasons. I've been a part of both teams for all of my four years and I was really looking forward to having this last season. I'm hoping that we can have somewhat of a season, but we just don't know yet," Mann said.
At SRHS, she is involved in the clubs Letters of Life and Pioneer Women.
Outside of school, she dances at SoCal – Dance.
Mann plans to attend a four-year university.
---
Grady Pond
Captain of the varsity lacrosse team
"It's definitely a big bummer that we aren't having football games this year. It's definitely hard for the seniors on the football team who were looking forward to their last season. I feel bad for the freshmen because they aren't able to experience those games," Grady Pond said.
He shared his struggles about online learning.
"I miss the social interaction between students and teachers. Not having that face-to-face interaction makes it hard looking at it from a student's perspective," he said.
But, he described the benefits of virtual learning.
"I like how I can set my schedule. It makes it easier to get things done when you have more control over the day," Pond said.
He explained how the teachers have been helping.
"I think the teachers are trying really hard to make everything really inclusive and they've been very comforting. They're doing their best to keep us interacting with them," Pond said.
Outside of school, Pond participates in the volunteer organization Lion's Heart and plays for the Rotten Cheeseburgers club lacrosse team.
Pond hopes to attend San Diego State University and study political science.
---
Melina Dimitropoulou
President of Peer tutoring, member of Science Olympiad
"What I miss most is just seeing my friends. It's just hard to interact with anyone right now," Melina Dimitropoulou said. "I'm missing interacting with my teachers more directly. Virtual learning has been pretty hard to get accustomed to,"
As president of Peer Tutoring, Dimitropoulou shared her challenges and experiences of running a club virtually.
"It was hard at first to get people to sign up for peer tutoring and send out the right links. It was new for us to be tutoring through Zoom," she said. "Things have worked themselves out though and we're able to tutor more people as well now since we don't have to physically be at school."
Dimitropoulou, a four-year member of Science Olympiad, explained her concerns for this season. Their competition will be in March and held virtually.
"Right now, we've been studying alone. I'm a little nervous to see how the competition will play out because a big part of the competition is being able to communicate with your partner directly," she said. "I think there will be a way for us to message our partners during the competition, but it's not the same."
Outside of school, Dimitropoulou ice skates at the San Diego Ice Arena.
She plans to attend a four-year university to study computer science.