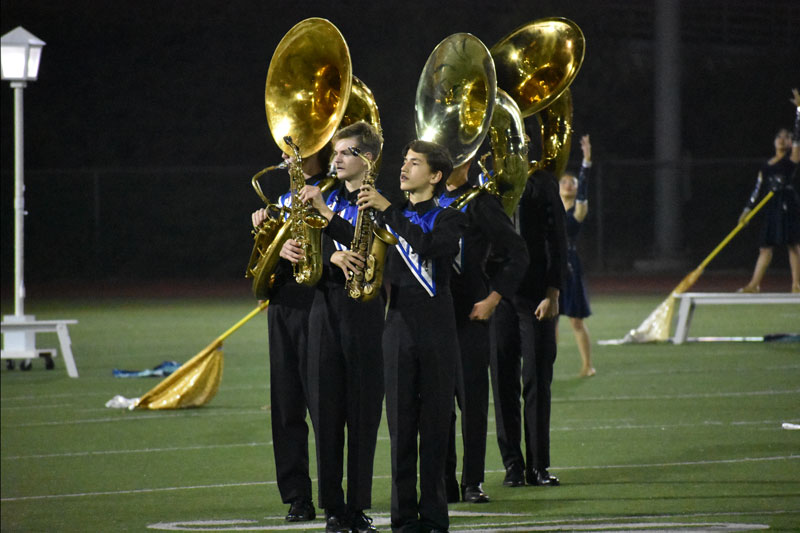 SRHS marching band strives for perfection
By Ashley Shah
The Scripps Ranch High School (SRHS) Marching Band and Color Guard came back strong from a year online.
On Nov. 13, the team went to the California State Band Championships (CSBC) semi-finals in Irvine and placed third out of 11 Division 5A bands. The team was headed to the CSBC Division 5A Championships in Huntington Beach on Nov. 20.
"We are currently second overall in our division, which puts us in a really good place going into the semi-finals because only the top six schools in the division of 11 schools make it into finals," said music director Russell Shedd before the Nov. 13 competition.
The band had three competitions in the regular season prior to the semi-finals.
It placed first overall in the first, which was held at Valhalla High School on Oct. 16. On Oct. 30, it competed in a competition the band hosted at SRHS, and placed second overall, and first in its division. Their last competition of the regular season was Nov. 6 at Great Oak High School in Temecula. The team placed fourth overall, and second in its division.
"We have had two great runs this season. We have won two out of three competitions for our division, so we're hoping to win some more," Shedd said.
"My main goal this year was to be successful and make it to finals. We have made state finals the past five years," he said.
Due to the switch to in-person after a year of virtual learning, Shedd has made some adjustments.
The team's show this year is called "City of Lights."
"The theme kind of centers around Paris in the '40s," Shedd said.
"We have definitely simplified our show this year. It is shortened, and some of the material we are playing is stuff we have seen before, but I just wanted to keep things simple since we are just coming back from online learning," Shedd said.
The marching band and color guard teams combined this year make up about 100 students.
"That's a little lower than in years past. I think it's going to take a couple years for us to bounce back from COVID," Shedd said.
After the competition season is over, the music department will prepare for its winter concert set for Dec. 15 and 16. The concert will be held outdoors.
"We have had many performances outdoors, so having it outdoors this year won't be too much of a difficulty since we are familiar with that type of performance," Shedd said. "I like to make the winter concert like a festival, so we will have food trucks and sort of like a photo booth."
The SRHS music program is self-sustained financially.
"The district gives us very little, so we fundraise all of the time. We do dinner nights and sell iced tea. The concerts are also fundraisers. We are always in need of donations," Shedd said.
For more information, visit srhsmusic.com.