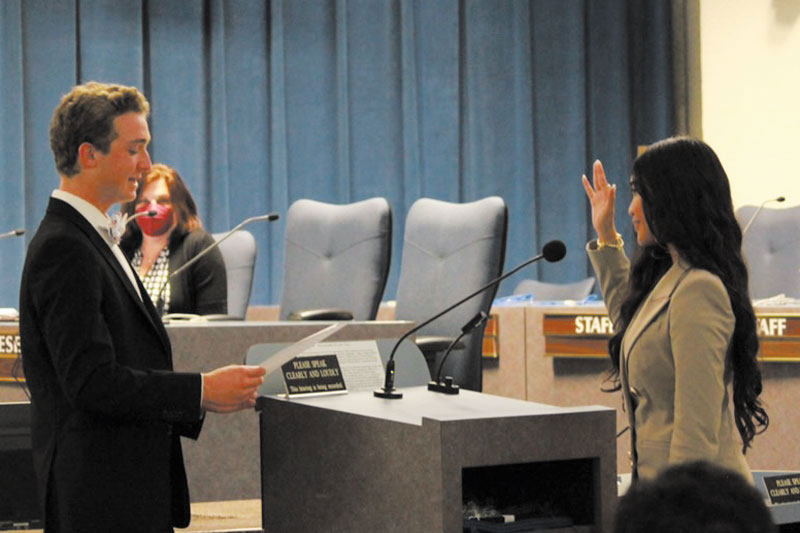 SRHS senior joins school board
By Kaila Mellos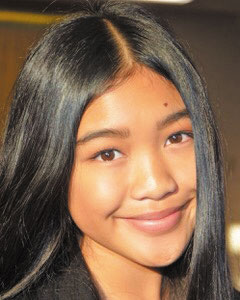 Lea Nepomuceno, who will be a Scripps Ranch High School senior this fall, has become very involved in many aspects of the community. Now she has started another journey.
Nepomuceno was one of only two students from the entire San Diego Unified School District selected to serve as a student board member on the San Diego Unified School District Board of Education. She, along with Matthew Quitoriano, were sworn in on June 28.
"I've been involved with the school district my entire life within leadership," Nepomuceno said. "I'm currently the student chair of the Independent Citizens' Oversight Committee on Racial Justice and Equity, so I've had a wonderful opportunity to work with the school district. Being on the board and having that direct student representation is very integral to ensuring that student opinions are heard, listened to and taken into account when actions and decisions are being made."
As a student board member, Nepomuceno is expected to do what any other board member of San Diego Unified School District would do. The only catch for student members is that their votes are only taken as strong recommendations and not counted in the overall voting process.
"As student board members, what we can do is we can promote and write certain resolutions as well as just support the community. So pretty much the same job as other board trustees, besides that our vote is taken as a recommendation," she said.
This does not stop Nepomuceno, though. Her campaign that she took all over the San Diego Unified School District to collect a majority of votes had many agenda items. She has five major points she hopes to bring more change to through her leadership.
First, she wants to work on restorative justice, especially school policing.
"There's a lot of wonderful initiatives, but especially considering a lot of what happened in 2020 and forward, ensuring that police are held accountable. I hope to work on strengthening that trust between police and students because it's really important within our communities," Nepomuceno said.
Along with school policing, another central point Nepomuceno wants to work on is gun violence prevention and a know your rights initiative that would educate students about their rights on campus grounds and outside.
This one is close to the heart for Nepomuceno as she is part of Team ENOUGH, a California lobbying collective against gun violence. This collective is run by youth to educate the public about gun violence and how to take action. She is the California leader of this initiative.
Another agenda item she used while running for the student board member position is food service. While it is free, Nepomuceno wants to make more inclusive options on the menu, consisting of vegan, vegetarian and kosher options for those with cultural and religious exceptions.
"Another aspect is gender and woman empowerment in schools, including menstrual product accessibility," Nepomuceno said. "Ensuring that menstrual products are not only accessible in the office or the nurse's office, but also in every bathroom."
Besides her position on the board of education and the student chair position of the Independent Citizens' Oversight Committee, Nepomuceno is the co-founder of the Youth for Juvenile Justice
Reform program that advocates for "breaking the stigma on formerly incarcerated youth everywhere."
The program was started in 2019 to break the stereotype by interviewing formerly incarcerated youth and spreading their stories to prove a person is just that – a person.
She also took part in founding The Wing Magazine at Scripps Ranch High School.
"The Wing has been helpful, especially with my connection with the school district and meeting other students. We've seen a demand for more student journalism across the San Diego Unified school district," Nepomuceno said. "We will have a chapter at San Diego High School, which we're very excited about. We'll have the other high schools involved and eventually become The SDUSD Wing. The school district will have a student-led printed publication, where each school has a certain amount of articles, illustrations, layout designs, and turn it into one districtwide magazine."
Nepomuceno uses all these experiences to familiarize herself with all the different San Diego communities and make her decisions on the board as informed as possible.
"San Diego Unified itself is a very socioeconomically diverse school district. Familiarizing myself with students, teachers and parents, and having those conversations about the changes they want to see was incredibly impactful and enlightening," Nepomuceno said. "It was just a very kind of heartwarming process to see all these small communities, especially like Scripps Ranch High School, and just amalgamating it into realizing how we have similar goals and visions for our district. I have the power to push those focuses that I've seen expressed from these individuals."
As a senior, Nepomuceno will be graduating in the spring of 2023. She hopes to combine all her passions to study journalism, criminal justice and education.