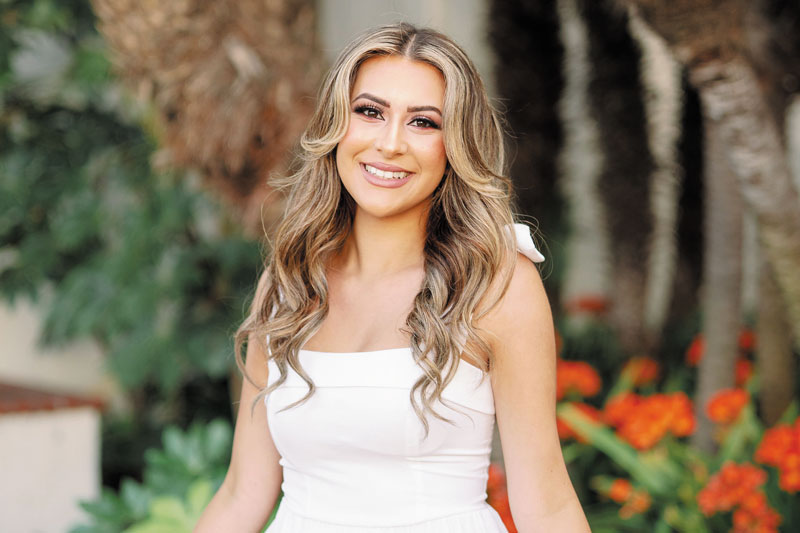 Student earns Harry S. Truman Foundation scholarship
By Kaila Mellos
Sandrien "Sandy" Mekany, a former Scripps Ranch resident and student, has been chosen as the first San Diego State University (SDSU) student to earn the Harry S. Truman Foundation's graduate scholarship for public-service leadership. Nearly a graduate with one requirement left for her minor, Mekany plans big things for her future.
Mekany is the daughter of Arabic-speaking Chaldean refugees who fled Iraq during Saddam Hussein's regime. Growing up, she struggled to pick up the English language and faced discrimination due to her background in the years following 9/11 and the War on Terror.
"I think a lot of the time people see being a minority student as really surface level. If you already speak the language, you're fine. If you were born in the U.S., you're fine. But it really spans way further than that because people's cultures, customs, beliefs and backgrounds are so entirely different regardless of where they're from," Mekany said. "Coming from immigrant parents, I had an entirely different upbringing than every student I went to school with before high school. I was learning Arabic, even before English when I was growing up and faced a lot of bullying and other things … having those experiences made it hard for me to believe in myself."
Having an upbringing with so much adversity inspired Mekany to make the changes she wished someone would have stepped in to make for her as a child.
"At the end of the day, when I wanted to apply for the scholarship, I applied because I remembered the little girl I was and the opportunities I wish I had when I was younger," Mekany said. "I know that I can create opportunities for others through this scholarship because it connects you and allows you to network with others that work together to advocate for the same things."
Not only will Mekany receive $30,000 in scholarship money to help her toward graduate school and more access to apply for federal internships and jobs in the future, but it will also connect her with an endless, worldwide network of people in public services.
Mekany was told she was the scholarship winner in an unannounced visit to her political science class from SDSU President Adela de la Torre, Provost Salvador Hector Ochoa and other school officials. She is the fourth California State University student to receive the scholarship and the first since 2006.
"It felt like I was dreaming. I was just in my class, and I saw our university president walk in with our provost, and I was like, 'Oh my God, is this about the Truman?' I had to mentally pinch myself multiple times to believe it was happening since it is such a competitive competition starting at over 800 other applicants," Mekany said.
When she told her parents, it was an even more joyous, tearful event for all of them.
"I called my mom and she was crying absolute tears of joy. She said something that really made me tear up along with her. She said, 'this is why I migrated here for things like this to happen for you and for my siblings.'" Mekany recalled. "It was, for her, such a great affirmation that they did the right thing and that she knew she made the right decision because it meant that I was now going to be able to create more opportunities for other young students like me."
Through multiple internships and experiences in college, like doing a congressional internship in Washington, D.C., and going to Milan, Italy, this fall to fulfill her final minor credit studying a foreign political system, Mekany has focused on what she aims to do with the $30,000 scholarship once she gets the chance.
"I haven't completely decided yet, but what's really amazing about this scholarship is the way that it guides you. It connects you with people that are in your field or have similar policy interests as you," Mekany said. "So, I really want to go into something that can help me advance into an educational policy program for other students of color. What that would look like for me is hopefully securing a job or some type of internship at the U.S. Department of Education in D.C. That would be my ultimate dream."
She hopes that every experience she has had, and will have in the future, will guide her and help her eventually apply to law school in a couple of years.
Mekany is set to graduate with a major in political science and as an Associated Students officer whose many extracurricular activities include mentoring and tutoring younger students for the International Rescue Committee, a nonprofit focused on refugees, migrants and asylum-seekers.
She hopes that through the many amazing experiences she has fulfilled, she will inspire others to chase after their dreams of change.
"Being able to believe in yourself and have confidence, that is what I really hope shows other students that they can do it. Struggle is struggle and the experiences that I had growing up were not hard, they all were," Mekany said.
"But at the end of the day, I think that makes this so much more meaningful to me, and I hope it makes it more meaningful to the other students who are probably experiencing similar things, or worse things, that we don't know about because it's not often talked about. I really hope if anything that students do see this and see that there's a Chaldean girl who faced many of these struggles growing up: If she did it, then I can do it too," Mekany said.