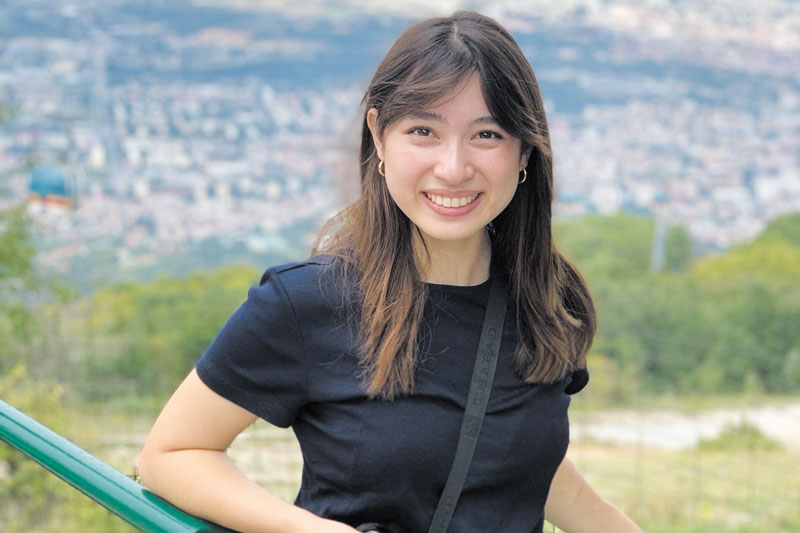 Student spends year in North Macedonia
By Kaila Mellos
Scripps Ranch student Isabella Lastomirsky decided to take a leap of faith and leave everything she knew behind for a once-in-a-lifetime opportunity.
Lastomirsky was accepted into the Kennedy-Lugar Youth Exchange and Study (YES) Abroad program and chosen to go to North Macedonia for her senior year of high school.
"I've always loved learning about new cultures, but it's always been from the comfort of my own room and in my own city that I've lived in my whole life," Lastomirsky said. "I'd read about other cultures in my native language, English, and I realized that you can't learn about a new culture unless you're going to experience it and leave your comfort zone entirely."
Initially, the YES program was created for international high school students to live and study in the U.S., but the program was expanded in 2009 to include YES Abroad for American high school students to study overseas. For the 2022-2023 academic year, YES Abroad had programs going to Bosnia and Herzegovina, Bulgaria, Ghana, India, Indonesia, Jordan, Malaysia, Morocco, North Macedonia, Senegal, Thailand, and Turkey.
Lastomirsky is one of 65 students competitively chosen from a nationwide search for this program. When a student is selected, those leading the program decide what the best fit is for the student's study abroad trip.
"You're allowed to choose a preference, but they ultimately decide the best country in which they think you'd be a good fit. I would have loved to go to the Philippines or Bosnia and Herzegovina," Lastomirsky said. "But I'm really happy to be in Macedonia. It's been wonderful. The people are hospitable, the food is great and I've enjoyed all the different experiences."
Lastomirsky has been in North Macedonia for a little less than two months. She is currently staying with a host family and is completely immersed in the culture there.
"I've been adapting well, for the most part. It's a big change, but when you're with people willing to take
you out and show you around and be very welcoming to you, it makes things a bit better," she said. "Going out now means I get to see something new or try something I walk past on the street … I'll say, 'I want to go here,' and then we'll go there. I don't know where I am, and seeing new things with people who know where they are has been fun because they're teaching me a lot. I like seeing the different sites, meeting strangers and talking to them in the little Macedonian I know."
Lastomirsky knew no Macedonian before leaving for North Macedonia and has been learning one step at a time there.
"I didn't speak any Macedonian other than I knew how to say hello, good day, and my name is. I also learned a few letters from the Cyrillic alphabet. Still, I went in not knowing anything, and just wanted to see what would happen. Now I'm speaking sentences, so it just takes time."
Taking this opportunity to go to North Macedonia, Lastomirsky had to leave behind her American senior year at Scripps Ranch High School with friends and family, and the experiences she would have had. But, in turn, she is getting to make new friends and have new experiences – and this makes her mother proud.
"Her dad and I told her to weigh the pros and the cons," said Ana Borja, Lastomirsky's mom. "They were both equal for her, being in high school – and her friends and her loved ones are not going to see her for a long time. But then the pros for her career-wise, [are] being a lot more confident and worldly. Her dad and I know there's a sadness we feel. But at the same time, excitement for her career and future and this experience has outweighed our sadness."
Lastomirsky mentioned that her friends also highly encouraged her to take this opportunity. She still gets to talk to them during lunchtime at Scripps Ranch High School despite the time difference.
"They encouraged me to go," Lastomirsky said. "They thought this would be a wonderful opportunity, and they knew that this is what I was interested in life. So, they pushed me to go for it, and I'm really glad they did that because I'm happy that I'm here, and it feels like it was the right decision."
Lastomirsky has been attending iHigh Virtual Academy as a senior and expects to graduate in January, with the graduation ceremony being held in June 2023. She is currently applying to colleges for global marketing based on her new experiences.
"I want to travel more. This made me realize I don't know if I could stand being in one place for so long doing an office job. I want a job that will allow me to travel and see more places in the world because I think that's something I value in my life," she said.
This whole experience for Lastomirsky has changed her life. She hopes it will encourage others around her to leap out of their comfort zone in the future to learn about the world from a different perspective.
"I encourage all high schoolers who are even remotely interested in applying for the study abroad YES program because, especially when you're younger, you get to go out and experience everything with the local high schoolers," Lastomirsky said. "I think it's just such an incredible experience to be able to do this at such a young age and being able to do it at the funding of the State Department, so you don't have to worry about the cost of travel or the price of schooling because that's all taken care of for you. But it just changes how you think about people and the world and how you view your community and what you value in life."