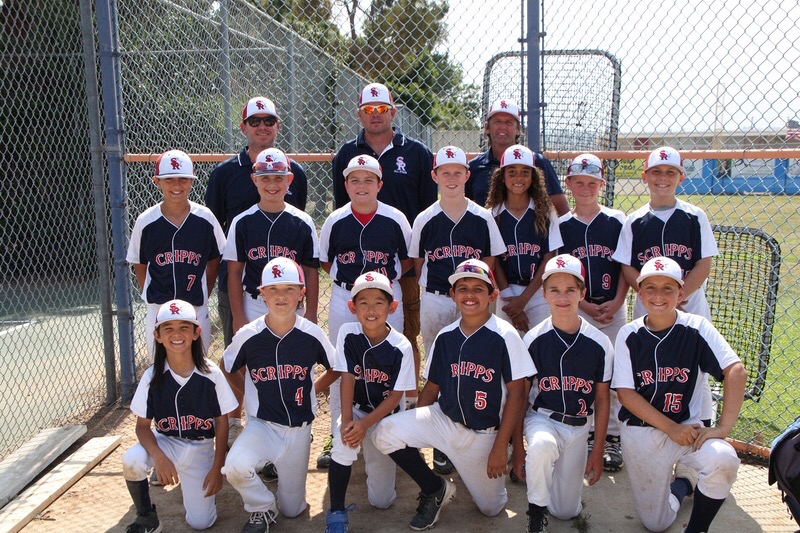 All-star team has incredible run 
By Hector Trujillo
A historic run for the 10U Scripps Ranch Little League (SRLL) All-Star team concluded after the team became the first in the history of the league to win Sectionals and make it to the Southern California State tournament in that age bracket where they finished fourth overall. 
"We are so proud of these boys and coaches, and how they represented (SRLL) throughout the All-Star season," said new league President Avi Barat. "They put in a tremendous amount of work and effort, and we could not be more proud of their accomplishment."
The team, made up of 13 All-Stars, was under the stewardship of manager Lance Taschner and assistant coaches Matt Green and Kevin Hamilton.
In order to achieve their unprecedented performance, the team started off its journey by being crowned District 32 champions, which had a total of 10 teams competing. This occurred thanks to an unforgettable victory against Point Loma, allowing them to advance to Sectionals. There, they played in a four-team tournament and beat the District 31 champion 4S Ranch in the Sectional championship game, which allowed them to advance to the Southern California State tournament. The state level tournament is as far as any 10-year old bracket is allowed to compete, and it was where they had to face off against teams from all over Southern California, including those from Los Angeles and Orange County. The SRLL 10U All-Stars won their first game, lost their second game in closely contested fashion, but came back to win their third game against Parkview Little League from Chula Vista, making them the best 10U team in San Diego County along with their fourth place position overall.
This performance was reminiscent of the one achieved by the 2018 SRLL Intermediate All-Star team which made it all the way to the Little League World Series, and was also managed by Lance Taschner.
"It was very similar in the fact that we had phenomenal hitting," Taschner said. "One through nine, we would go out there and crush the ball. We were constantly putting up runs and we had solid pitching depth. We could throw different pitchers out there at any time and it reminded me a lot of that team."
Among the most noteworthy performers were Aaron Tinoco with his two grand slams in one inning; Colin McArthur who also had a two home run game of his own at the state level competition; JD Engler and Brody Perkins who served as the two go to pitchers helping carry the team to victories in several games; Ethan Neville who had a couple of home runs of his own at the district level; and last but not least, Chase Taschner who came in to pitch in a bases-loaded situation, also at the district level, where he was able to strike out the batter, allowing his team to eventually win the game in extra innings.