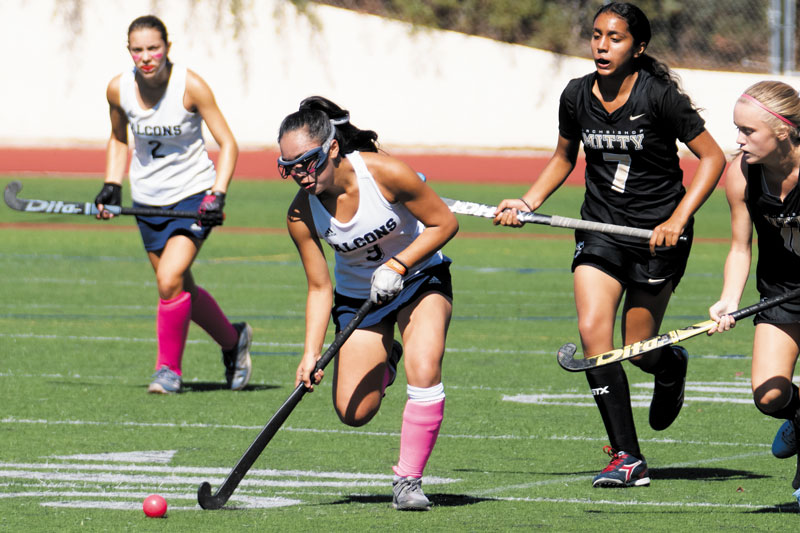 Field hockey team continues winning ways
By Hector Trujillo
The uncertainties that everyone involved in sports has had to deal with over the last 18 months due to the COVID crisis have apparently not been a total distraction for the Scripps Ranch High School varsity girls field hockey team this season. 
The team started off the season red hot going undefeated in its first 11 matches (10 wins and one draw) with the best performances coming at home against La Costa Canyon High School on Sept. 10 where the players won 5-0, and in the following match on the road against San Pasqual High School where they came away with a dominant 7-0 win.
The most dramatic victory would come on Oct. 9 against Archbishop Mitty High School from San Jose. The squads had to go into an overtime shootout after finishing tied in regulation 1-1. SRHS eventually came away with the shootout victory.
"The season is going good so far," head coach Jane Morrill said. "We have our ups and downs like any other team, but overall, the chemistry and discipline are there."
For obvious reasons, the team did not have much of a season last year, only being able to play nine games and finishing with a 5-4 record overall and 4-2 in league play.
The team practices every day and is a very balanced squad full of players who contribute their specific talents on the field to help them be competitive regardless of the quality of their opponent.
Among the most noteworthy players so far this season are seniors Kelsey McGrattan, Melanie Spitzberg and Riley Blemker who are the captains, along with Allyson Turfler and Julianne Sue. Their goalkeeper, Kaelynn Del Monte, has also been a bright spot in the line-up with her quick reflexes and agility.
"The beauty of this team is that on any given day anyone can score, whether they are a starter or not," Morrill explained.
Morrill has been coaching since 1995, taking two years off in 2017 and 2018. She played multiple sports in high school and has always had a passion to win, whether it be as a player or coach.
"When I came  out to Scripps, they needed a coach, so I decided to jump right in," she said.
The team still faces some challenging regular season games, including a Nov. 1 road contest at La Jolla High. The players hope to continue their quest for another CIF San Diego title, just as they have done during the previous two years in which they played full seasons.