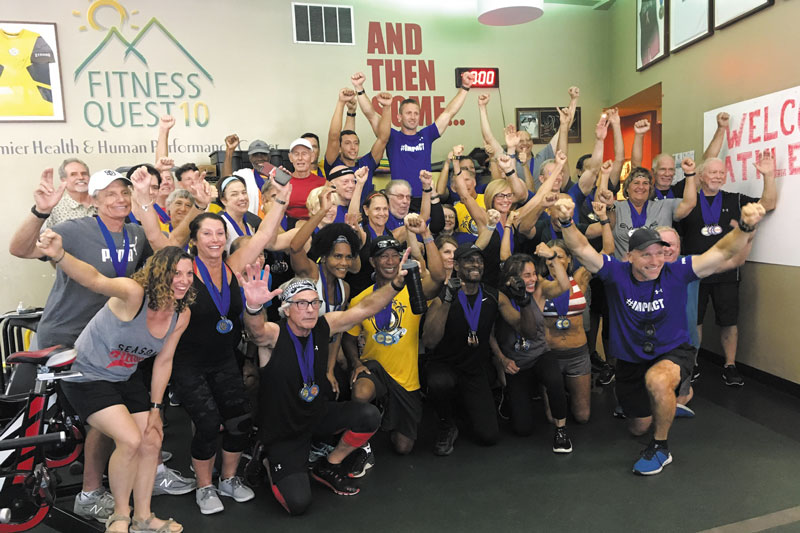 Fitness Quest 10 hosts 50+ Fitness Competition
By Ashley Shah
Fitness Quest 10 held the Master's 50+ Fitness Competition in association with the San Diego Senior Games on Sept. 19.
The event included 10 different fitness competitions, which involved kettlebell box squat, barbell bench press, straight arm dead hang, farmers walk, keg toss, 300 yard shuttle run, concept 2 rower, jump rope, prowler push and med ball slams.
"I think the most popular events would be prowler push, med ball slams and the bench press," said Jeff Bristol, Fitness Quest 10 general manager.
Registration for this event began in late June and closed on Sept. 12 through the San Diego Senior Games website.
"People registered by age bracket and gender. The age bracket starts from 50 to 54, then 55 to 59, and so forth," Bristol said.
More than 80 competitors registered. More than 40 were from the San Diego area, around 33 being from Fitness Quest 10 specifically. Around 30 were from California, but not San Diego, and two were from out of state.
"When we had this event in 2019, we had people driving hours to come down for these competitions," said Trish Williams, event co-commissioner to Fitness Quest 10.
Around 50 percent of competitors were under 60, and the rest were spread out over the age brackets. There were two competitors from the 85-89 bracket.
"Out of the 10 competitions, you could pick and choose which ones you wanted to compete in. You didn't have to do it all if you didn't want to," Bristol said.
The award ceremony was held after the competitions ended.
"I want to congratulate everyone who participated. These events are challenging and people had been preparing for them," Bristol said.
This is Fitness Quest 10's second year holding this event.
"We held it for the first time in 2019, then the pandemic hit, so we couldn't in 2020. But we began planning then for this year," Williams said.
Williams, and her husband, Stan, brought the fitness competition to Fitness Quest 10.
"In 2017, Stan had been looking for fitness competitions in San Diego. He found one in Chula Vista, but it was too small," Williams said. "He met Kirsten Cummings, the executive director of the San Diego Senior Games at that event, and she asked what gym we went to. In 2018, she reached out to us and asked if we could do the event at Fitness Quest 10. We talked it over with Jeff, and we held it in 2019."
About 50 people participated In 2019.
"I think the most important thing with this event is that we are encouraging people to stay healthy and fit. We are encouraging people to challenge themselves. This event is a good test of their strength, agility, power, flexibility and more," Bristol said.
Fitness Quest 10 plans to hold this event annually each fall.
"We definitely want to do more community events, hopefully every couple of months. It's just nice to see everyone coming together for a good reason," Bristol said.