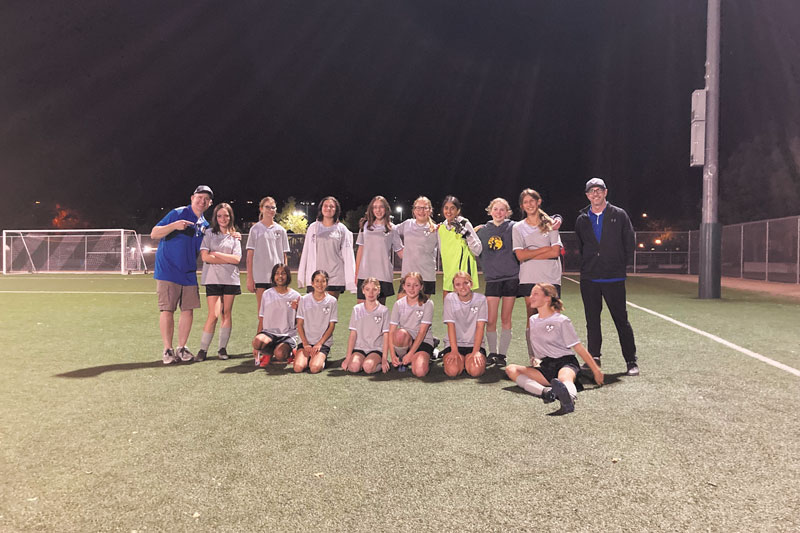 Jaguars capture regional soccer championship
By Scott Nyberg
The Scripps Ranch Soccer Club (SRSC) Jaguars captured the girls' Fall 2022 Regional Tournament Championship on Nov. 12. During the 1-0 victory over Poway, striker Abby Murphy scored the game-winning goal with just one minute remaining in regulation.
In the preceding semi-finals game, Olivia "O.G." Pearcy scored a pivotal goal in the second half, enabling Scripps to defeat Rancho Bernardo 1-0, paving the team's path to the tournament championship.
The Jaguars remained undefeated during the fall recreation soccer season with an 8-0-2 record and captured the regional title. Doing so earned them the number one seed for the post-season tournament, where goalkeeper Sailee Caffrey and the team's dominant defense shut out two consecutive opponents.
Led by Murphy and anchored by two-time SRSC All-Star Autumn Nyberg and standout halfback Violet Holland, the Jaguars' offense outscored the competition a combined 23-8, possessing the best goal differential among the nine-team regional league. Additionally, the Jaguars' defense allowed no goals in 60 percent of their games.
This marked the second championship for co-coaches Scott Nyberg and Shannon Holland, whose 2008-2009 girls rec team captured the SRSC division championship in Fall 2019. The coaches continued their tradition of including fun activities that powered team spirit and kept the team energized, such as blasting tunes from a boom box (which sometimes sparked dancing), face painting and rewarding team wins with multiple pizza/ice cream/donut parties and an epic water balloon fight.
The Fall 2023 season kicks off in August and registration begins in April. To register, visit scrippsranchsc.com.