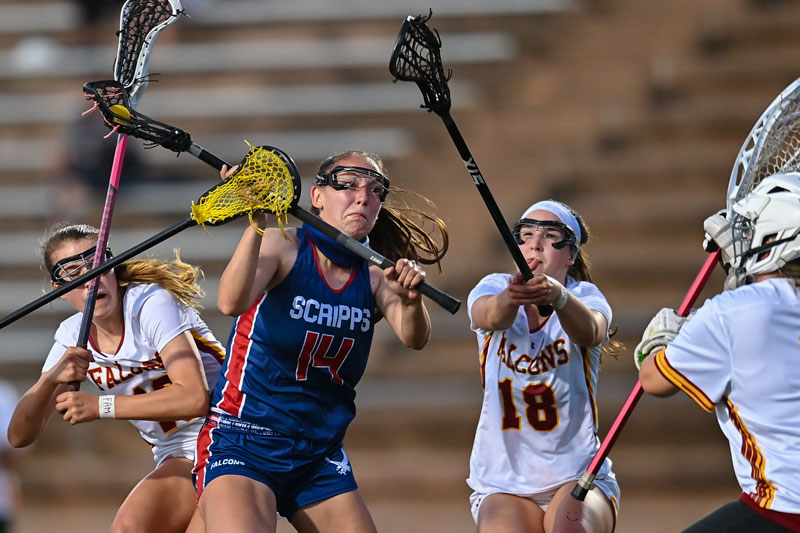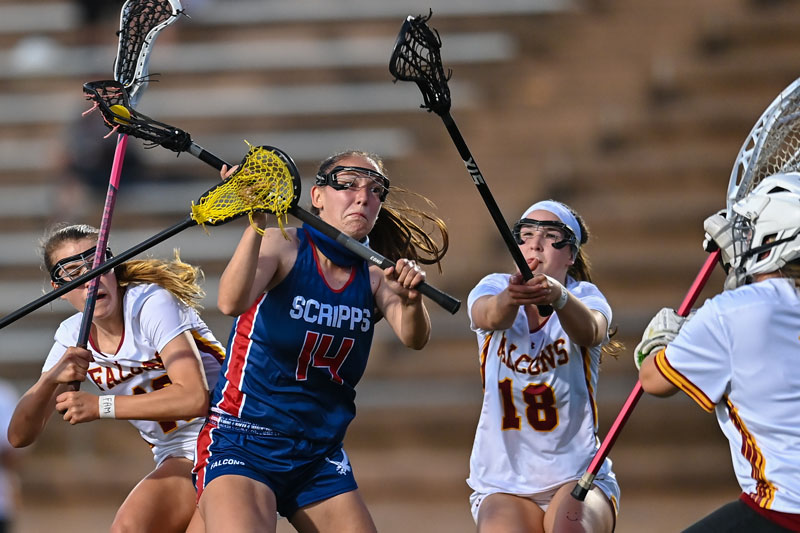 Perfect season: UNDEFEATED!
By Kaila Mellos
EDITOR'S NOTE: The 2021 Scripps Ranch High School female varsity lacrosse team achieved an incredible undefeated season. The team is ranked number 9 in the entire country and number 1 in the state of California, according to MaxPreps. This high-powered team piled up the goals – the smallest margin of victory was six points.
The team left each game with high rankings. With the last match taking place on May 21 – a 16-2 victory over Cathedral Catholic High on SRHS Senior Night – the team has achieved victory after victory this season.
"One of the biggest strengths of this team is everyone's outstanding work ethic and hustle in practice and games," said attacker Kayden Williamson. "We are also all such great friends that it makes game communication and the overall team so cohesive."
According to some of its players, the team has built a great connection over the two to four years they have been together on and off the field.
"Everyone on the field is a threat," said Natalie Markman, midfield. "I would also say we have really good chemistry from playing with each other for two to four years, and it allows us to play as a team."
Since last year's season was cut short due to COVID-19, the team did not get to play for CIFs, and no rankings were official last year. But this season has been much better.
"As of now, we are ranked number 1 in California, and to my knowledge, we've never been ranked higher at SRHS girls lacrosse," Williamson said.
With the pandemic cutting last season short and forcing this one to start late, the girls try to make up as much time as they can with what they have left.
"Practices have definitely been a lot different than previous years with having to be spaced out and wearing masks, but I think it has allowed us to grow even more individually and as a team," said Leiden Huber, center/midfield. "The pandemic allowed us to spend more time and develop our individual skills, which we were able to bring back to the team and raise the level as a whole. I think we also have more purpose when we are playing, and know for a lot of us this is our last opportunity to win league, CIF and keep the standard of Scripps Ranch lacrosse high for many years to come."
Shea Richardson-Pepper, defense, also said that she is trying to make up all the time she lost last year.
"Lacrosse is such a huge aspect in my and my teammate's lives, so it was hard for us when the pandemic stopped our season. We are so grateful to have a chance to play this year, and we have been working super hard and making every minute count to make this the best year possible," she said.
Many on the team are graduating and moving on to various colleges around the country. Some are even continuing to play lacrosse.
Richardson-Pepper is going to play DIII lacrosse at Willamette University in Salem, Oregon. Markman is going to UC Davis to play. Williamson has committed to play DI club lacrosse.
With the year ending and seniors leaving, a couple of players offered advice to those keeping up with lacrosse or even thinking of joining in the future.
"It's super important to always train with a hardworking and relentless drive, and make sure to savor all the fun moments with your teammates," Williamson said.
"I would tell them not to be afraid to take risks and try your best to do everything with a positive, learning attitude," Huber said.