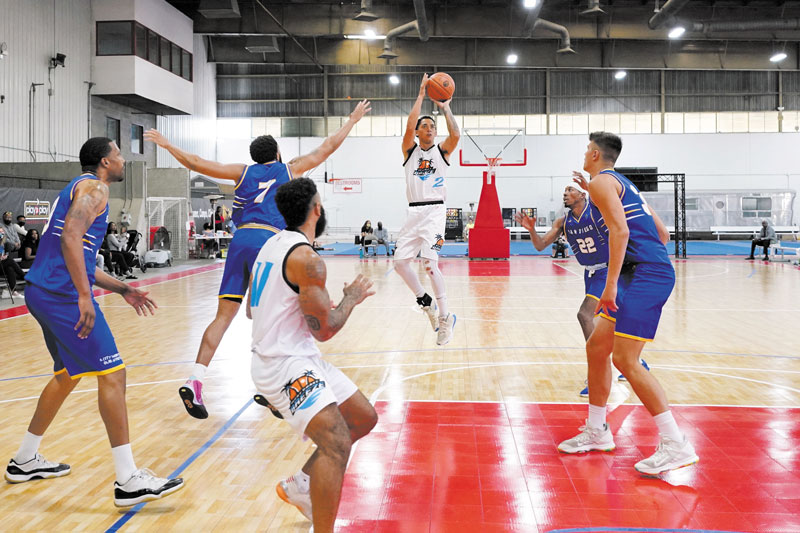 Pro basketball plays at Alliant campus
Hector Trujillo
The West Coast Breeze basketball team, which will play part of its 2021 home schedule at Alliant University in Scripps Ranch, kicked off its first competitive season as a member of The Basketball League (TBL) on April 10 with a game against the Vegas Ballers, followed by a game the following day against the San Diego Guardians.
The team's inaugural season was scheduled to take place in 2020, but the league had to cancel the entire season due to the ongoing COVID-19 pandemic.
"This is the sport we all love, and we will show this to our fans," said West Coast Breeze head coach Diarra Carrington.
Carrington, who is the daughter of former NFL player Darren Carrington, is making history of her own as the league's only female head coach. She is joined by her associate coach, Jerome Sherman, who has years of coaching experience including being the head coach of the Tijuana Zonkeys in 2010 and the assistant coach of San Diego City College from 2004 to 2009.
"This team has a lot of talented players and they are a very solid group of guys," Sherman said. "The season is just getting started and I think the team will get better and better as the season goes on."
The West Coast Breeze finds itself in the West Coast Division and is scheduled to play a total of 22 games alongside the San Diego Guardians, Vegas Ballers and California Sea-Kings.
"We are thrilled to add the West Coast Breeze into markets that fit geographically with our current TBL teams," said league CEO Evelyn Magley. "The heart of this ownership group is to get engaged with the local youth and become a real community asset."
The league announced several new teams for the 2021 season, expanding from 12 teams in the curtailed 2020 season to 35 teams by January of this year with several of the added teams coming from the semi-professional American Basketball Association. By the end of March, six teams had opted out of the current season due to the ongoing pandemic restrictions, bringing the final number to 29.
View the schedule at bit.ly/3n5JsH1.