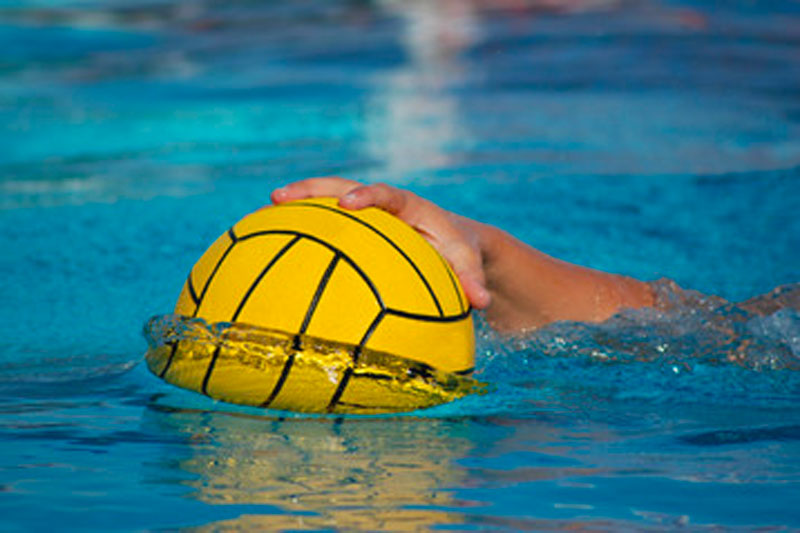 Water polo team overcomes obstacles
By Hector Trujillo
Among challenges the Scripps Ranch High School (SRHS) varsity boys water polo team dealt with this year was finding a head coach and putting the team together after falling behind a few weeks compared to other teams in the county.
"We have played some tough teams in La Jolla High School and Francis Parker," said new head coach Brad Oestreich. "The team is continuing to learn about themselves and learning to play as a team with a new coach. As far as expectations, I entered the season wanting to make the most of the cards we have been dealt."
The first-year coach, a father of two, played water polo and swam for Scripps Ranch High School from 1996 to 1999. He was drawn to the sport because he liked the highly physical, active and fast paced game, something that his team – which consists of three seniors, seven juniors, two sophomores and five freshmen – can attest to. One of his main objectives was for the team to be able to play as many games as possible, all the while building and developing to compete not just this year, but for future years as well.
One of the most dramatic games this season saw the team defeat Santa Fe Christian 13-12 with only three seconds left in overtime on Sept. 25. The team suffered three consecutive losses, but then gained a victory in a 14-7 rematch with Santa Fe Christian and a 12-5 win against La Jolla Country Day.
"It isn't only about winning. The wins are nice but the development of water polo players and learning
life lessons through the sport is the ultimate goal," he said.
The three seniors are Mason Miller, Michael Drobeck and senior captain Hovik Sinanyan. Connor Ducharme serves as junior captain.
All the players are finding ways to contribute, whether it be junior Anush Salaniwal and sophomore Kai Sarti-Guerrero using their talents to protect the cage, or all the freshmen helping in the preparations for the next game. Everyone is adding their own value. The team practices five days a week, two hours a day at the Ned Baumer Pool at Miramar College.
Despite not playing a full season last year because of COVID protocols, the coach and players are optimistic
that they can benefit from what has been learned during their early season non-league games.
"Our objective is to walk off the deck, win or lose, with our heads up after each game by playing the best water polo we can and giving 100 percent each game. If we do that, the wins will come our way," Oestreich said.
The team closes its season with final games coming at home against La Jolla Country Day on Oct. 26, followed by a road game against University City on Oct. 29.
"I couldn't imagine being one of the student athletes and not being able to play a sport they loved because an adult wouldn't step up and coach," Oestreich said. "COVID has already had a great impact on their time in high school. I made the call and here I am today, working with these 17 water polo players. I believe we are all learning from this experience. The guys are teaching me so much and, hopefully, they are learning a little something from me."